ALT Text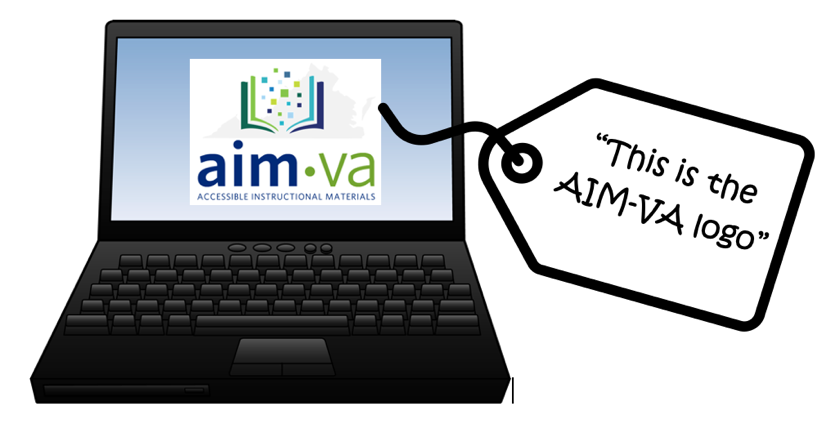 Happy New Year!
Let's start the new year by looking at one of the important tools for students using screen readers or who have visual impairments, 'alt text' for visual data such as images, drawings, or other graphics.
What is alt text?
Alt text stands for alternative text and provides an audio description of what is in visual data, such as text or basic essential details. Otherwise, a user only hears the word "image" and could miss any relevant visual details. An alt text is read aloud to users by screen reader software. Most of these software programs have automatic alt text that is generated when it encounters a picture. However, the automatic is usually not very descriptive. If using, it's also a good idea to verify that the automatic alt text is correct. Educators can also write their own alt text which can include a more comprehensive description of the visual data.
Below is an example of the automatic alt text for an image of a man saying, "Happy New Year". The automatic text simply describes the image as Happy New Year Man which does not describe what is happening. The image on the right provides more detail so the user can get a better idea of what's happening in the image.
Automatically Generated Description
Manually Entered Description
Automatic alt text:
Happy New Year Man
Alt text with specific description:
Man with a warm scarf around his neck and seven balloons to the right of him. The man is saying Happy New Year.
Why is alt text important?
Alt text is important for users who need to use screen readers to access documents. Screen readers will read the alt text out loud and can provide essential information. It is also important for students who are unable to visually identify an image due to a visual impairment.
How do I add alt text to visual data?
In MS Word:
Right click the image
Scroll down to View Alt Text
Enter your own text to describe the image if needed
In Google Docs:
Right click the image
Scroll down to Alt text
You will be prompted to enter the title and description

Click OK
When the user right clicks on the image, it will contain the title and description
How do I write a good alt text for visual data?
According to an article on Perkins School for the Blind website, there are some guidelines for writing alt text for images, when applicable. Some of these include:
Placement of objects in image
Image style (painting, graph)
Colors
Names of people
Clothes (if they are an important detail)
Animals
Placement of text
Emotions, such as smiling
Surroundings
In addition, it is suggested that you should not include descriptions of colors, obvious details, details that are not the focus of the picture, or overly detailed descriptions.
And finally, if the image is purely decorative, do not include alt text at all.
What does the research say about alt text?
In an article entitled How to Write Alt Text and Image Descriptions for the Visually Impaired on the Perkins School for the Blind website, information on the uses of alt text is described.
Information on how to write good alt text can be found in an article entitled, Write Good Alt Text to Describe Images on Harvard's accessibility site.
In an article entitled, Diagrams, Timelines and Tables on the Reading Rockets website, there is a good description in Table 2 of the types of images, the definition of the types, and examples.
---
AIM-VA provides educators a way to have books converted to accessible files for students who have an Individualized Education Program (IEP). Search for books through the AIM-VA website. Books not currently found in the AIM-VA library, can be produced if requested by an AIM-VA DRM (Digital Rights Manager) in any Virginia public school division.