Featured Books & Reading Tools

~April~
Elementary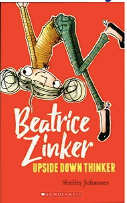 Book: Beatrice Zinker, Upside Down Thinker
Author: Shelley Johannes
Format: PDF: Accessible
Barcode: 50011665
Beatrice does her best thinking upside down.
Hanging from trees by her knees, doing handstands . . . for Beatrice Zinker, upside down works every time. She was definitely upside down when she and her best friend, Lenny, agreed to wear matching ninja suits on the first day of third grade. But when Beatrice shows up at school dressed in black, Lenny arrives with a cool new outfit and a cool new friend. Even worse, she seems to have forgotten all about the top-secret operation they planned! Can Beatrice use her topsy-turvy way of thinking to save the mission, mend their friendship, and flip things sunny-side up?
(amazon.com)
Additional Resources for Beatrice Zinker, Upside Down Thinker
Secondary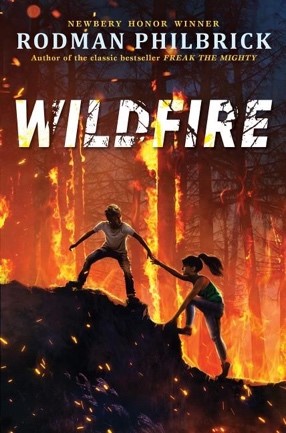 Book: Wildfire
Author: Rodman Philbrick
Format: PDF: Accessible, PDF: Fully Accessible, WORD
Barcode: 50011605
Newbery Honor author Rodman Philbrick sends readers straight into the nightmare of a raging wildfire as 12-year-old Sam is trapped by explosive flames and deadly smoke that threaten to take his life. Can he survive? Flames race toward Sam Castine's summer camp as evacuation buses are loading, but Sam runs back to get his phone. Suddenly, a flash of heat blasts him as pine trees explode. Now a wall of fire separates Sam from his bus, and there's only one thing to do: Run for his life. Run or die. Lungs burning, Sam's only goal is to keep moving. Drought has made the forest a tinderbox, and Sam struggles to remember survival tricks he learned from his late father. Then, when he least expects it, he encounters Delphy, an older girl who is also lost. Their unlikely friendship grows as they join forces to find civilization. The pace never slows, and eventually flames surround Sam and Delphy on all sides. A powerful bond is forged that can only grow out of true hardship -- as two true friends beat all odds and outwit one of the deadliest fires ever. At the end of the novel, information about wildfires and useful safety tips add to the reader's understanding of one of the US's most dangerous natural disasters.
(amazon.com)
Additional Resources for Wildfire
Digital Tool of the Month

Tool: ClaroPDF
Cost: Free 15 day download
ClaroRead Plus - $225
ClaroRead Pro - $329
Access: This product is not free. For pricing go to Downloads - Text to Speech Software | Claro Software
ClaroPDF is included with ClaroRead Plus and ClaroRead Pro software and is available for Windows or Mac. ClaroPDF allows users to have PDF files read aloud with the built-in screen reader. You can have PDF files read back to you with a human quality voice and synchronized highlighting. ClaroPDF responds to switch or Bluetooth keyboard commands which would be helpful for students with physical disabilities. This software is especially helpful for students who are dyslexic. By having synchronized highlighting, the words are reinforced while reading.
For more information:
Reading Tools Discussed so far:
September blog – Natural Reader
October blog – Immersive Reader
November blog – Read Aloud
December blog – Kami
January blog – Speechify
February blog – Read & Write
March blog – ReadSpeaker
April blog – Claro Read
---
AIM-VA provides educators a way to have books converted to accessible files for students who have an Individualized Education Program (IEP). Search for books through the AIM-VA website. Books not currently found in the AIM-VA library, can be produced if requested by an AIM-VA DRM (Digital Rights Manager) in any Virginia public school division.