Featured Books and Tool of the Month

~October~
Elementary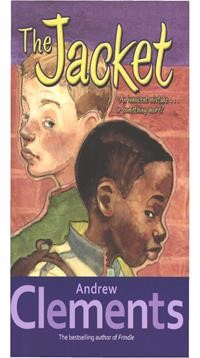 Book: The Jacket
Author: Andrew Clements
Format: PDF: Accessible
Barcode: 50010983
When Phil sees another kid wearing his brother's jacket, he assumes the jacket was stolen. It turns out he was wrong, and Phil has to ask himself the question: Would he have made the same assumption if the boy wearing the jacket hadn't been African American? And that question leads to others that reveal some unsettling truths about Phil's neighborhood, his family, and even himself. (Amazon.com)
Additional Resources for The Jacket
Secondary
Book: A Boy at War: A Novel of Pearl Harbor
Author: Harry Mazer
Format: PDF: Accessible
Barcode: 50003072
December 7, 1941: A morning like any other, but the events of this day would leave no one untouched. For Adam, living near Honolulu, this Sunday morning is one he has been looking forward to -- fishing with friends, away from the ever-watchful eyes of his father, a navy lieutenant. Then, right before his eyes, Adam watches Japanese planes fly overhead and attack the U.S. Navy. All he can think is that it's just like in the movies. But as he sees his father's ship, the Arizona, sink beneath the water, he realizes this isn't make-believe. It's real. Over the next few days, Adam searches for answers -- about his friends, the war, and especially, his father. But Adam soon learns sometimes there are no answers. (Amazon.com)
Additional Resources for A Boy at War
Digital Tool of the Month

Tool: Immersive Reader by Microsoft
Cost: Free
Website: https://education.microsoft.com/de-at/resource/9b010288
Access: Open Word, click on View and you will see Immersive Reader on the tool bar. To see how to open and use in a PDF document, click here: Immersive Reader Guide to open PDFs
Immersive Reader is a free tool from Microsoft that reads text aloud while highlighting words and allows students to control how documents are viewed. By highlighting words, it makes it easier for students to follow along while the text is being read. Spacing of words, fonts, color of text, and backgrounds can be changed to meet the needs of students with dyslexia, vision impairment, and other learning needs. The line focus option darkens the entire screen except the line being read. The text scrolls up to the box meaning students do not have to track down with the text. Students can choose one, three or five lines at a time. With just a portion of text highlighted, content is easier to read and comprehend and allows students to focus. Immersive Reader also can increase fluency for English language learners and build confidence for emerging readers. Students of any age and grade can take advantage of the many features and supports of Immersive Reader.
Reading Tools discussed so far
September blog – Natural Reader
October blog – Immersive Reader
---
AIM-VA provides educators a way to have books converted to accessible files for students who have an Individualized Education Program (IEP). Search for books through the AIM-VA website. Books not currently found in the AIM-VA library, can be produced if requested by an AIM-VA DRM (Digital Rights Manager) in any Virginia public school division.