Henry Winkler, the man, the actor, the producer, the author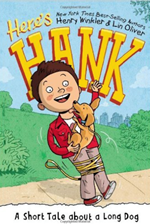 Henry Winkler is a well-known actor appearing as the Fonz in the series Happy Days, and for his role in films such as Holes and The Waterboy. Winkler is also an award-winning producer and director of children's programming, as well as an entertainment industry leader committed to children's welfare. But did you know Henry Winkler was an author of a series of books for children? He wrote the Here's Hank series which is about a fourth grader who struggles with learning differences. The series is based on Winkler's experiences growing up with undiagnosed dyslexia. There are 17 books in the series and it ends when Hank has to go to middle school. He has also written a series with Lin Oliver called Ghost Buddy. This is about Billy Broccoli, a sixth grader, who has to deal with a new house, a new stepfamily, a new middle school, and a new neighborhood bully. He has no friends until Hoover Porterhouse appears literally out of thin air! Hoover is a cool ghost who is always ready to give Billy advice about fashion, girls, baseball, and especially bullies.
His Life
Henry grew up in New York City. His parents were very strict. They thought he was lazy and not living up to his potential. He was grounded for most of his high school years. He wanted to be in school plays but he didn't have good enough grades. He didn't find out that he had dyslexia until he was 31 years old. Winkler said, "I guess the key is, no matter how many times you fall over, you dust yourself off and you keep moving," His mantra is "You don't have any idea how powerful you are and what you can achieve. You literally cannot give in to your fear. You literally have got to walk over it, step on its face and keep moving toward where you want to go and eventually, if I can get there, there's no reason you can't get there." Great words to share with all students and especially those who are struggling.
AIM-VA
AIM-VA has most of the Here's Hank series in an accessible format. Search on the AIM-VA Website for these books:
There are 17 books in the series so if there are other Here's Hank books you need, AIM-VA can produce them if requested by a DRM (Digital Rights Manager).
Classroom Resources related to Henry Winkler
Videos:
Sources: