Never Give Up!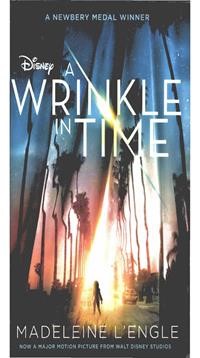 This is a message from a famous author born in November.
Did you know that the author of A Wrinkle in Time waited 2 ½ years to find a publisher for this famous book? Madeleine L'Engle won the Newbery award in 1963 for her book A Wrinkle in Time. When she wrote the book, the idea of space travel was new. It was a time when the Soviet Union and the United States were in competition for space exploration.
Her Life
Growing up her house was full of musicians and theater people because her Dad was a writer and her Mom was a pianist. When she was 12, she moved to Europe and went to a Swiss boarding school. She came back to the U.S. and went to Smith College. After college, she moved to New York and worked in the theater. She wanted to write plays.
After she got married, they moved to a farmhouse in Connecticut. They opened a general store where their customers included gypsies, carnival men, farmers, factory workers, artists, and philosophers. This was a great experience for her because she got to meet all kinds of people. After 10 years, they moved back to New York. It took 2 ½ years to find a publisher for A Wrinkle in Time because no one wanted to publish it. She went on to write over 50 books.
The Story
A Wrinkle in Time is about the Murry family. Meg's father was experimenting with time travel when he mysteriously disappeared. Meg, her friend Calvin, and Charles Wallace went to rescue him. The children learn from Mrs. Whatsit, Mrs. Who, and Mrs. Which how to pass through the "wrinkle" in time and space to reach their father and what they must do to save him. Can they outwit the forces of evil that hold him prisoner on their incredible journey through space?
Her birthday will be celebrated on November 29.
AIM-VA
AIM-VA has A Wrinkle in Time in an accessible format. Go to the website https://aimva.org/get-started/search-for-a-book. Other books by Madeline L'Engle not currently found in the AIM-VA library can be produced if requested by a DRM (Digital Rights Manager).
Classroom resources related to A Wrinkle in Time