Posted on Jul 11, 2016 by June Behrmann | Tags: AIM-Related, Apps | Comments (0)
A wonderful website for parents, Understood.org, is busy sharing information on an array of topics related to students with learning and attention issues.
Parents, Teachers, Too  Teachers, administrators and related services personnel partially comprise the information stream. Safe to say that all members of a school team can benefit from the wealth of information offered on this site, including events that are streamed live.
One with appeal for all was broadcast recently for parents whose children have features of or who are diagnosed with dyslexia, dysgraphia, and/or dyscalculia. Jamie Martin, an assistive technology specialist and consultant, picked and shared his favorites. That link posted online on July 7 is included at the end of this article.
Recommended Apps  Here are the apps Jamie discussed that were released or updated in a significant way during school year 2015-16. At the time of his presentation, some were on sale. Note that readers can view his slide in the video that pinpoints one or more targeted audiences. In some cases he adds English Language Learners. 
Easy Spelling Aid

 is a spelling, reading, dyslexia and translation helper to use when a user encounters problematic words and is communicating in another language. 

Hang Art, 

an IOS with an Android version

,

 is based on the classic word game Hangman. Kids use the building blocks of spelling, writing, and drawing to boost vocabulary.

Endless Spanish offers 

"

Spanish

 Immersion" for native 

Spanish s

peakers and advanced learners, and "

Spanish

 with English Translation" for most native English speakers.

Endless Learning Academy is an early learning app with the Endless monster crew. Some sounds were identified as lacking accuracy.
Newsela is updated with a writing prompt both on the web and in the app. 

Newsela builds reading comprehension by delivering relevant, daily articles from trusted news sources with a choice of five reading levels, embedded assessments, and curriculum alignment information. 

Claro Scan Pen has users take a 

photo of a printed text document, letter, or exam paper so that they can then select text using a finger (or stylus) and hear it spoken aloud instantly. No internet connection is required.

Voice Dream Reader adds a visual bookshelf in this update, along with a pronunciation dictionary so users can correct inaccuracies. A new setting can be used electively for word tracking/pacing/spot tracking by struggling readers.
Co:Writer Universal for Google Chrome uses grammar- and vocabulary-smart word prediction to help students express their ideas in writing with a built-in speech recognition aid. The app is available now for individuals by subscription so families don't have to rely on schools. The app works with a third party keyboard. Topic dictionaries support writers by providing listings of specific vocabulary words.
ModMath is virtual graph paper developed by a parent and offering a free basic version for iOS with in-app purchases for higher math. In a major update during the last school year, there is a cleaner look and numeric keypad that aligns math problems. A new camera feature allows for pictures of math problems that can be inserted into the virtual paper and shared.
Photomath 

reads and solves mathematical problems by using the camera of a mobile device in real-time. A reveal feature shows users how to solve math problems.

Whink productivity tool for iOS devices offers a gel ink pen and smart eraser to help make handwriting smooth and flawless. Jot down notes by typing, recording or sketching. Mark up documents and organize notes easily. This app u

ses two apps at the same time to take notes on an iPad while reading or watching a video and more.

 
Squid productivity tool for Android devices helps users t

ake handwritten notes using an active pen, passive stylus, or a finger. Markup PDFs to fill out forms, edit/grade papers, or sign documents. Import images, draw shapes, and add typed text to notes. Select, copy/paste, and move content between pages and notes. Organize your notes within notebooks. 
Apps Webinar View the "New Apps for Dyslexia, Dysrphia and Other Learning Issues" webinar on YouTube.
Weekend Wisdom  Learn and ask questions about apps throughout the summer at 10 a.m. on July 22-24. The Understood.org calendar is filled with learning opportunities along with these three Weekend Wisdom sessions. Check out all the learning opportunities. 
More Resources  
Explore the Understood.org website for a stunning array of resources contributed by Understood.org's partners. 
Check out @UnderstoodOrg's weekly #LDchat every Wednesday at 12 p.m. ET.
We Are AIM-VA  Accessible educational materials (AEM) help to create access to the curriculum for students with dyslexia, learning disabilities, vision or physical challenges, and others. A federally funded AEM program in every state assures that books in alternative formats are provided free of charge to eligible students with disabilities whose education teams take action. The AEM program operates under a legal exception to federal copyright law. Check out the AIM-VA home page to learn more about eligibility in Virginia. In other states, contact a special education teacher, a school administrator or download a list of AEM state contacts.

.
Follow AIM-VA on Facebook 

, Pinterest 

, and Twitter at @AIMVirginia.

 and/or follow me @aimnoncat.

. Subscribe to AIM-VA's new monthly newsletter. Sign up here.
Related Articles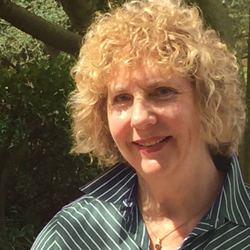 RSS Feed For AIM-VA Blog