Posted on Apr 25, 2016 by June Behrmann | Tags: AIM-Related, UDL, Resources, Loading... | Comments (0)
Now that Universal Design for Learning (UDL) is scattered into the Every Student Succeeds Act (ESSA) without requiring it, interest is growing in describing it in fresh new ways, translating its principles into practice, and encouraging educators across the curriculum to jump on board.
UDL Is not only a way to include students who have disabilities in meaningful instruction — but it holds promise for all students to find their groove and learn in ways that best suit them.  
High Hopes  Hopes are high that UDL, that is well over a decade old and evolving, is a key to engagement, instruction and expression. In fact, a recent revision to this framework for teaching and learning pushes "engagement" up front to emhasize its importance. To learn more, surf over to the CAST website and find a long list of possibilities to inspire the curious as well as dedicated practitioners. Often, trainers recommend that teachers start "where they are" and transition to UDL practices in steps that fit a teacher's style and comfort level. 
Selected Online Learning Opportunities: Find more on the website.
The ESSA  Here is a summary of UDL as mentioned in the Every Student Succeeds Act:
Congress said that education agencies should adhere to UDL principles when developing student assessments.
The law asks that when school districts create plans for comprehensive literacy instruction that UDL be part of those plans.
The legislation approves spending federal money on educational technology to support UDL. 
Tech And UDL  UDL requires that teachers problem solve and remove the barriers to student learning. Solutions often are low– or no–tech. In the larger scheme of implementation, however, educational and assistive technologies help students to by-pass learning problems. These arise from instruction where a preponderance of lectures, printed materials, inaccessible digital materials, and traditional books in print are barriers to learning and achievement. 
Free Webinar  Check out a free hour-long webinar from CAST on Tuesday, May 17 at 1:00 EST. Learn what the ESSA says about UDL. Hear experts comment on the implications for education practitioners and researchers. Guest speakers are Lindsay Jones from the National Center for Learning Disabilities (NCLD) and Laura A. Schifter. She is a former senior education and disability advisor for Rep. George Miller (D-CA) on the Committee on Education and the Workforce. Register for UDL in the ESSA.
Other Resources
We Are AIM-VA
  Accessible educational materials (AEM) help to create access to the curriculum for students with dyslexia, learning disabilities, vision or physical challenges, and others. A federally funded AEM program in every state assures that books in alternative formats are provided free of charge to eligible students with disabilities whose education teams take action. The AEM program operates under a legal exception to federal copyright law. Check out the 
AIM-VA home page
 to learn more about eligibility in Virginia. In other states, contact a special education teacher or school administrator for guidelines, or 
download the list of AEM state contacts

.

Follow AIM-VA on Facebook 

, Pinterest 

, and Twitter at @AIMVirginia.

 and/or follow me @aimnoncat.

. Subscribe to AIM-VA's new monthly newsletter. Sign up here.
Related Articles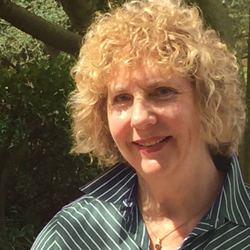 RSS Feed For AIM-VA Blog