Posted on Oct 13, 2015 by June Behrmann | Tags: AIM-Related, Disabilities | Comments (0)
We Need Diverse Books™ (WNDB™), a grassroots organization, announces a mentorship program that pairs award winning writers and illustrators of diverse publications with those who aspire to tell diverse stories, including disabilities, and/or who come from diverse backgrounds.  
WNDB™ was created to address the lack of diverse, non-majority narratives in children's literature by boosting the supply of high quality books across grade levels. Special educators, administrators, and related services personnel who have a story to tell about students with special needs should take advantage of the program themselves or share news with colleagues. 
Developing Writers  The importance of assuring diversity in books is told from many points of view on a slide deck found on the website's homepage. It is a good read. "We recognize all diverse experiences, including (but not limited to) LGBTQIA, people of color, gender diversity, people with disabilities*, and ethnic, cultural, and religious minorities, according to mission statement. WNDB™ plans to announce winners  in Dec. and the mentorships begin in 2016. There are five categories:
Picture book text
Illustration
Nonfiction
Middle grade fiction and
Young adult fiction
The Mentors  The WNDB™ mentors are: Coretta Scott-King Award winner Nikki Grimes, Robert F. Sibert Honor recipient Patricia Hruby Powell, William C. Morris and Lambda Literary Award finalist Malinda Lo, and Newbery Honor recipient Margarita Engle. The illustrator-mentor will be announced within the coming weeks.
"Writing is often a lonely venture, and this industry can be perplexing," says committee chair and VP of Outreach Miranda Paul. Early in her career she benefited from a mentorship from a different organization. "A mentor offers support and guidance, but also access to knowledge and experience that can prove invaluable. That's what we want to provide for upcoming writers and illustrators who are diverse or working on diverse books," Paul says. 
Application Deadline  Children's writers and illustrators seeking mentorships can submit applications and their manuscripts until Oct. 31, 2015. Judges consider need and readiness of applicants. Their writing will be evaluated for craft, story, and diversity. Log on for applications on the WNDB™ website: Go to About/Apply.
We Are AIM-VA  Eligible students with disabilities who struggle with print could be eligible for accessible educational materials (AEM) that converts textbooks and trade books that a school owns into formats that help students learn best. Log on to the AIM-VA home page to learn more about AEM in Virginia. In other states, contact a special education teacher or school administrator for eligibility guidelines, or download the list of AEM state contacts.

Follow AIM-VA on Facebook 

, Pinterest 

, and Twitter at @AIMVirginia and/or follow me @aimnoncat. Subscribe to AIM-VA's new monthly newsletter. Sign up here.
Related Articles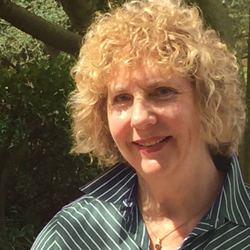 RSS Feed For AIM-VA Blog