Posted on Oct 11, 2015 by June Behrmann | Tags: AIM-Related, Literacy | Comments (0)
AIM-VA thanks Bookshare and writer Valerie Chernek for this guest blog. She discovers a Virginia success story and shares tips about ways that accessible learning materials  can open doors to learning.
Jennifer Cassese Appleton is a master at the art of blending multi-sensory learning in her reading classes. As a former reading specialist for Virginia's Alternative Paths Training School and Marshall High School (Fairfax County) and a parent of four children, including a son with dyslexia, she's had much opportunity to develop her craft. Appleton, now a private academic therapist for adolescents with dyslexia, sets high expectations for the students she teaches. Here are a few of her sensory learning best practices using Bookshare.
Appleton says, "I want all learners to enjoy an engaging reading experience, no matter their learning or print disability. I've used Bookshare throughout my teaching career and it is an excellent resource. The online library and accessible books definitely have a place in the curriculum for supplemental reading and core academics."
The students Appleton teaches today are extremely bright, but their reading comprehension and reading level have them at a disadvantage. Dyslexia involves difficulty in learning to read or interpret words, letters, and symbols, but does not affect general intelligence. According to the latest statistics one in five students in the U.S. has a brain-based learning and attention issue related to reading, writing, math, and organization. That number translates into 2.9 million children who have a specific learning disability. 
The National Center for Learning Disabilities reports one of every 10 students in the U.S. is dyslexic, and eighty percent are placed in special education. Appleton says, "Individuals with dyslexia and learning disabilities require a multi-sensory reading experience to make contextual connections and learning engagement more 'sticky.'"
Multi-sensory reading, the act of seeing and hearing words read aloud, reinforces understanding and comprehension in individuals with learning disabilities. Bookshare today serves over 360,000 members with print disabilities, such as dyslexia, with more than 367,000 accessible titles. Bookshare also partners with AIM-VA to strengthen the reach of students in Virginia and their teachers who can benefit from the resource. 
Make Reading Come Alive!  Appleton, a former Bookshare Mentor Teacher, shares these creative ideas to make reading come alive through accessible books.
Pair literature. "When you pair good literature with a sensory experience, you create positive memories in the reader," she says. "You inspire curiosity and hold their attention." This creative teacher even uses scented markers to help her students recall and write about what they read.
Encourage students to have an Individual Membership so they can use the online accessible library day or night on the device of their choosing. "Bookshare has lots of academic titles, plus periodicals to keep students with print disabilities interested in current events."
Integrate companion learning projects. "Combine cultural interests and activities into reading assignments involving art, music, cooking, or any hands-on creative topic. This will further foster your students' love of reading!"
In one classroom, Appleton had students download the book From the Mixed-Up Files of Mrs. Basil E. Frankweiler, by E. L. Konigsburg from Bookshare. The story is about two kids who run away to the Metropolitan Museum of Art (MET) in New York and are inspired by an Egyptian bronze cat. Students read the book, then sculpted cats out of clay. "My ninth and tenth graders loved the project!" 
For younger children with learning disabilities, Appleton taps into Bookshare for pleasure reading. For older students, she assigns accessible textbooks, research materials and periodicals. 
To learn more, visit www.bookshare.org.  In October, Bookshare is raising awareness about individuals with learning disabilities on its blog by discussing common myths and facts and remarkable people with dyslexia. Jennifer Cassese Appleton is building a Facebook page. 
Valerie Chernek is an education and technology writer and advocate for teachers and children with special needs. Find her on Facebook and Twitter. Check out her site about "super stars" called "Kids with Disabilities Rock!"
We Are AIM-VA  Accessible educational materials from Bookshare and other sources are available to eligible students with print disabilities at no cost to their families or schools. Log onto the AIM-VA home page to help students in Virginia. In other states, contact a special education teacher or school administrator for eligibility guidelines. Mention IDEA or you can start by downloading a list of AEM state contacts.

Follow AIM-VA on Facebook 

, Pinterest 

, and Twitter at @AIMVirginia and/or follow me @aimnoncat. Subscribe to AIM-VA's new monthly newsletter. Sign up here.
Related Articles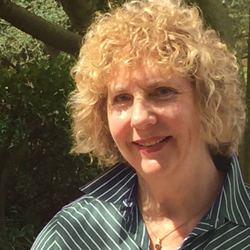 RSS Feed For AIM-VA Blog