Posted on Sep 02, 2015 by June Behrmann | Tags: AIM-Related, Autism, Resources | Comments (0)
The Iris Center, a support for all teachers working with students who have special needs, just announced a new IRISSTAR Legacy Module: Autism Spectrum Disorder: An Overview for Educators is now posted on its website. 
Take Four   Learners will meet four students with varying strengths, needs, and instructional challenges. Through their experiences--and through the Module's many resources--autism spectrum disorder (ASD) and the characteristics associated with it come to light. Moreover, find information that inform the process that shapes a teacher's thinking  when working with students with ASD.
Check out the following areas: 
The Overview:  Learn how ASD is defined for both medical and educational purposes

Multidisciplinary Teams: See how they work on behalf of children and students from birth to age three and from age three to 21 years

Educators Role:l Gain insights about professionals working with the children and their families 

Audio Interviews : Hear from
Ilene Schwartz, Professor of Special Education and Director of the University of Washington's Haring Center for Research and Training in Inclusive Education 

Wendy Stone, Director of the University of Washington's Research in Early Autism Detection and Intervention Lab; and 

Nancy Rosenberg, Director of the University of Washington's Distance Learning ABA Program and parent to a young adult with ASD, among others
Sharing Knowledge
  All
Iris Center materials
are designed for sharing with your colleagues and students. THe center is f
unded by the U.S. Department of Education's Office of Special Education Programs (OSEP). Located at Vanderbilt University in Nashville, Tennessee, and Claremont Graduate University in Claremont, California, the objective is twofold:
to create resources about evidence-based practices for use in preservice preparation and professional development programs, and

to disseminate and offer trainings on those resources. 
Questions? Contact Kim Skow at 800-831-6134, 
kimberly.a.skow@vanderbilt.edu
, or 
iris@vanderbilt.edu.
Accessible Learning  Students with autism who fall behind in reading may have a print disability. One such student is Bailey, a teen whose story shows the power of having accessible educational materials (AEM). When print is a barrier to learning, students can learn with free alternative formats under provisions in the Individuals with Disabilities Education Act (IDEA) and an exception to federal copyright law. AEM is a national program that is available in every state. For students in Virginia, log onto the AIM-VA home page. In other states, contact a special education teacher or school administrator to learn about eligibility. 
Follow AIM-VA on Facebook 

, Pinterest 

, and Twitter at @AIMVirginia and/or follow me @aimnoncat. Subscribe to AIM-VA's new monthly newsletter. Sign up here.
Related Articles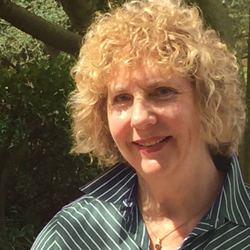 RSS Feed For AIM-VA Blog