Posted on Jul 26, 2015 by June Behrmann | Comments (0)
Who in your school will bring awareness about the 25th anniversary of the Americans with Disabilities Act* after the summer break—or will it go unnoticed? For this landmark legislation or for other days of observance related to diversity, inclusion, or special needs, the following short videos (< 6 minutes) can build awareness about students who learn differently or require accomodations in order to access the same curriculum as their peers.
Google.org, the philanthropic arm of Google crafted the video embedded above to celebrate the ADA anniversary and the start of the Special Olympics. The "Impact Challenge Disabilities/ADA 25th Anniversary" campaign also commissioned ten temporary vinyl murals by Canadian illustrator and lettering artist Darren Booth. These feature personalities in the video and were on view on stairs at museums and federal building in the nation's Capital until July 26, the date that President George Herbert Walker Bush signed the ADA into law in 1990.  See "Murals in D.C. this weekend mark Disabilities Act anniversay," in the Washington Post.
Other Brief Beneficial Videos Building awareness is an ongoing job. The resources that follow can help. They are short, some are sweet, and meant to be inspiring. Use them all year long at opportune times. 

Broadcast a video

at the start of a chosen school day.

Lead off a general education staff meeting or 

special education staff meeting. 

Kick off a PTA meeting.

Include one at inservice and maker workshops.
Blind Learners  "Do You Dream in Color," (Promo is 2.7 min.) View a group of blind teenagers who raise awareness that—given their skills and dreams—efforts must be in place so their education is accessible.
Deaf Learners  The arts count. Guggenheim Signs: American Sign Language VIdeos Featuring the Thannhauser Collection (4.42 min.): Presented in American Sign Language (ASL) with open captioning and no audio, 5 videos (all < 6 min.) discuss key artworks from Guggenheim Museum's Thannhauser Collection.
Dysgraphic Learners  "Kaitlin's Siri Story from The Fletcher School" (1.47 min.), by Jenny Grabiec, shows that widely available technology can be a learning solution for students who struggle with the mechanics of writing. 

Dyslexic Learners, Struggling Readers, Students Who Feel They Don't Fit In:
Gift of Dyslexia (1:59 min.) Being different is the gift of dyslexia, says dyslexic filmmaker Nika Vižintin in this motivational video to raise awareness about the strengths of struggling readers. 
FIsh in A Tree is a book trailer by Lynda Mullaley Hunt (2.00 min.) based on her book: 

"Everybody is smart in different ways. But if you judge a fish by its ability to climb a tree, it will live its life believing it is stupid." When peers accept learning differences, everything changes. 
Physical Impairments
Early Childhood Mobility and Exploration

: See a whirlwind of socialization, mobility, and exploration in

Go Baby Go

when ride-on toys from a local toy conglomerate are modified lightly for students with special needs. Given a chance to go at no cost to parents, children come to the University of Delaware where barriers to learning are removed and worlds of exploration begin. 

The AT Video Series (< 5 min.) from the MInneapolis-based Simon Center for Technology shows how assistive technology creates access and leads to productivity.

Meet Sam Graves

 Sam, a young man with cerebral palsy, is a successful college student, blogger, and sportsman. 

Meet Elle O'Gorman

 A young woman with cerebral palsy, with the help of AT, communicates widely. 

Meet Jared

, a young man with cerebral palsy who, with the help of AT, controls his entire computer and runs his graphic arts business through a sip and puff switch.
Students Who Learn Differently and Benefit From Accessible Instructional Materials: Simply Said is an ongoing video series also from the Simon Technology Center at Pacer Center.
*The ADA applies to public and private schools. This civil rights act does not specifically guarantee the right to a free appropriate public education. It does ban discrimination against people with disabilities in a wide range of settings including schools. The ADA works in concert with other state and federal laws that affects the education of students with disabilities. For more on the topic, log onto the Pacer Center "ADA Q & A: Back to School" article by Deborah Leuchovius, PACER ADA Specialist
AIM-VA  The federally funded Accessible Educational Materials program supports print-disabled students in every state. The program provides no-cost alternatives to eligible students when traditional books are converted to digital or other formats that best help the students learn. To learn more in Virginia, log onto the AIM-VA homepage. In other states, ask a special education teacher or school administrator about AEM under the Individuals with Disabilities Education Act (IDEA) and an exception to federal copyright law.
Be sure to check out AIM-VA's many webinars. Follow AIM-VA on Facebook 

, Pinterest 

, and Twitter at @AIMVirginia and/or follow me @aimnoncat. Subscribe to AIM-VA's new monthly newsletter for the latest on AEM. Sign up here.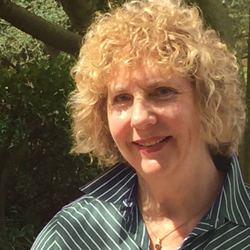 RSS Feed For AIM-VA Blog