Answer: Patricia MacLachlan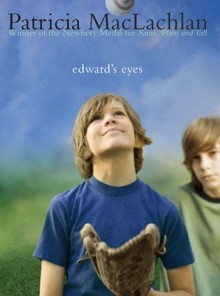 Question: What American author of novels for young readers won a Newberry Medal in 1986 for Sarah, Plain and Tall which was later adapted as a TV movie, frequently focuses her stories on the family, and was born in March?
ANSWER: Patricia MacLachlan
MacLachlan's books are grounded in realism. Many of her novels follow characters who grow by learning to see from another's point of view. Edward's Eyes is a book that AIM-VA has in accessible formats. In this story, Jake has a life filled with music, art, and long summer nights on the Cape. He loves baseball and plays it for hours and hours. He also has a brother, Edward, who can make everyone laugh and can throw a perfect knuckleball, which is a pitch you cannot hit. This story about a child, a son, a family and a brother, helps the reader see the gifts in us all and how those gifts live on and grow.
Like Edward's Eyes, MacLachlan's novels feature characters who grow. Listen to Ms. MacLachlan talk about this novel and about her writing for children.
AIM-VA
AIM-VA has Edward's Eyes in many different accessible formats. Search for the book through the AIM-VA website. Other books by Patricia MacLachlan, not currently found in the AIM-VA library, can be produced if requested by an AIM-VA DRM (Digital Rights Manager) in any Virginia public school division.
Classroom resources related to Patricia MacLachlan
Scholastic's listing of Patricia MacLachlan books
Edward's Eyes reading comprehension, strategies and skills booklet for teachers